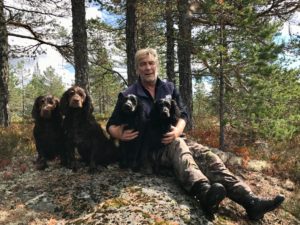 Paul Morris ( above ) knows dogs and he knows people that know dogs and know what they need in terms of care and natural dog food.
That's why he has built a supplier network of expert's in the UK in various fields of hunting, training, breeding, showing, care and rescue dogs.
VOM dogfood is for the best by the best.
For those interested in trying this premier raw dog food, please contact the following people.
Gundogs:
Marion Trust and Tom Cantwell – Trustwell Training – Gloucester
Tina Smith – Isfryn Gundogs – Leicester.
Neil Varney Twistmount Gundogs – Somerset.
Kevin John Boggwater Gundogs – Banbury.
Bleddyn Huw Jones Tarandu Gundogs – Mid/North Wales.
Ellena Swift Nunneley Swift dog training centre Warwickshire/Oxfordshire
Dean Melhuish  Dyffrynwood Gundogs https://www.facebook.com/dyffrynwoodgundogs/ – South Wales.
Show and agility:
Tracy Brown Tracy's Poodle Parlour Kennel name is Jaspalie Standard Poodles – Didcot.Oxon.
Pet Rescue:
Testimonial from Bev Dean – Our current Foster arrived with some very highly coloured dry food, clearly full of additives and I would guess not much goodness. He had been surrendered to rescue because he Chewed when left and wouldn't settle. When he arrived he was pretty much a Kid on Blue Smarties who was so hyped up that he had no chance of focusing or settling down.
As all of ours are on VOM I immediately switched our Foster Boy, Protecting Preloved Border Collies – Jecht over to VOM. Within 2 – 3 days there was already a marked improvement in his behaviour. Now 3 weeks on he is a lovable, calm lad who has ample energy to run in the fields but is equally happy to settle down and rest. He still enjoys life to the full but by removing all the additives in his original food he is able to channel his energy in a positive manner.
I had always been on the fence about the pros and cons of Raw Feeding but the results from feeding VOM speak for themself and have convinced me that using a good quality Raw Food really is the best thing you can do for your dog.
Pet food suppliers:
Southam Country Stores -Oxon.
Shanklin Pets – Shanklin, Isle of Wight.
Pet Stop – Newport, Isle of Wight.
Diva pets ltd – Doncaster
Ian R Garland Raptor propagation Farm  Gamekeepa Feeds & Supplies – Staffs.
Any of these people will be only too pleased to help you.
As you can see, we've still got a lot of the country where stockists are required😱Contact me or Paul if you're interested.
VOM, let your dog decide!
The sole U.K. Distributors are:
Enterprise A Team Limited – facebook page here.
Director – Paul Gerwyn Morris
07983 396153
Director – Kine Martinessen.
website: http://vomoghundemat.uk/
GLAM SHOW GEAR – Leads, Clothing, Show Suits – For Dog Show Leads, Clothing and Showsuits